I received this book for free via Netgalley however this in no way affects the opinions expressed in this review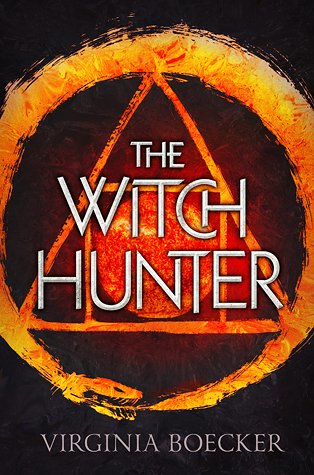 The Witch Hunter
by Virginia Boecker
Release: 2nd June 2015
Publisher: Orchard Books
Genre:
YA, Fantasy, Romance, Supernatural, Historical
Other books by Virginia Boecker:
None
Goodreads Description:
Your greatest enemy isn't what you fight, but what you fear.
Elizabeth Grey is one of the king's best witch hunters, devoted to rooting out witchcraft and doling out justice. But when she's accused of being a witch herself, Elizabeth is arrested and sentenced to burn at the stake.
Salvation comes from a man she thought was her enemy. Nicholas Perevil, the most powerful and dangerous wizard in the kingdom, offers her a deal: he will save her from execution if she can break the deadly curse that's been laid upon him.
But Nicholas and his followers know nothing of Elizabeth's witch hunting past--if they find out, the stake will be the least of her worries. And as she's thrust into the magical world of witches, ghosts, pirates, and one all-too-handsome healer, Elizabeth is forced to redefine her ideas of right and wrong, of friends and enemies, and of love and hate.
Virginia Boecker weaves a riveting tale of magic, betrayal, and sacrifice in this unforgettable fantasy debut.
My Review


The Witch Hunter is a low fantasy set in an alternate Middle Ages. There's a ban on witchcraft derived from fear and witch hunters traverse the country catching anyone practising any form of magic to be burned. Elizabeth is a witch hunter, although it's made pretty damn clear that she wasn't right to be a witch hunter and she only did it for Caleb.

I feel like I'm going to repeat what everyone else's said but with a few more positive points inbetween but whatever...
ELIZABETH HE'S OBVIOUSLY GOT NO INTEREST IN ANYONE OTHER THAN HIMSELF AND IT MAKES YOU AN INCONCEIVABLY THICK CHARACTER TO NOT SEE THAT!

I did find that Elizabeth seemed ridiculously oblivious to some obvious points at times, which was only to direct the plot. It got a little annoying and I came out of reading this with the only character I liked being Schuyler. Who, may I say, is conveyed as being British but has a specifically Dutch name. In the Middle Ages. Other than that though, he was pretty entertaining. And the only character who didn't seem to be dumb as they come.

The majority of this book was about Elizabeth's love life. Sure, that ain't a problem to have a bit of romance, but you either focus on advancing Elizabeth and John's relationship or advancing the plot. Attempting both obviously didn't work out and, although the book was written as if the plot was meant to take centre stage, the character relationships messed it up quite a lot.

Over all though, I did enjoy the book, even if it annoyed me multiple times throughout, and I will definitely be picking up the next in the series. Just to see where Elizabeth and John go to be honest. And hopefully the plot will have been fixed up a bit.
Links
Goodreads
Amazon UK
Amazon US
Abi Ainley