So, another must read: I'm having a great booklife at the moment ;D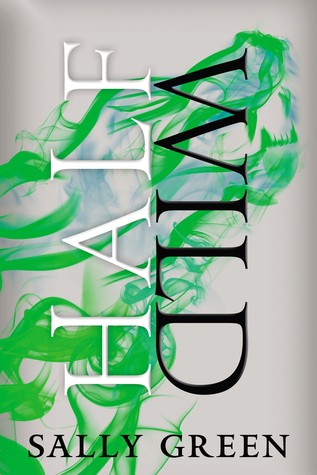 Half Wild
by Sally Green
Release: 24th March 2015
Publisher: Puffin
Genre:
YA, Fantasy, Action, Romance, Awesome, Bloody amazing
Other books by Sally Green:
Half Bad
Goodreads Description:
"You will have a powerful Gift, but it's how you use it that will show you to be good or bad."
In a modern-day England where two warring factions of witches live amongst humans, seventeen-year-old Nathan is an abomination, the illegitimate son of the world's most powerful and violent witch. Nathan is hunted from all sides: nowhere is safe and no one can be trusted. Now, Nathan has come into his own unique magical Gift, and he's on the run--but the Hunters are close behind, and they will stop at nothing until they have captured Nathan and destroyed his father.
My Review


Being a huge fan of Half Bad, I was expecting to love this book. I was expecting to finish reading it and write a lovely positive review about how good it was. Turns out I more than loved this book. I've loved books before but never as much as this one. And this ain't going to be a lovely positive review about how good it is. I'm pretty certain this is just going to be me babbling on about how god damn amazing and awesome and ridiculously super it was!

Everything just got turned up a notch when I opened the first page of this book. The setting was vivid and exciting, the characters were awesome and way too lifelike, and the emotions, well, I don't think any word in the English dictionary could describe accurately what this book did to me. I'm pretty sure my heart aged 20 years in the process of reading this book. I kind of feel sorry for it in some respect: it spent a good portion of this novel stopping, clenching and palpitating. My tear ducts have also been worn down significantly, and most of it was crying when Annalise kept refusing to disappear. Come on, I'm pretty sure everyone just wanted her out so Nathan and Gabriel could actually get together!

In a normal review, I'd be critically analysing the novel, picking out the good bits, the bad bits, commenting on the characterisation and the writing of the novel. However, I hardly think that's necessary here. I failed to pick out much that could have been better. Okay, there could have been a few more tears throughout the novel, but the ending seriously makes up for that.

Finally, I'd love to conclude with who I recommend this to but really:
-If you loved Half Bad you'll love Half Wild even more.
-If you hated Half Bad you'll love Half Wild.
-If you haven't read Half Bad you really need to go do that right now.
Links
Goodreads
Amazon UK
Amazon US
Abi Ainley