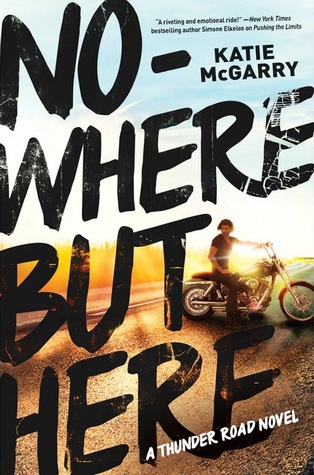 Nowhere But Here
by Katie Mcgarry
Release: 26th May 2015
Genre:
YA, Contemporary, Romance
Other books by Katie Mcgarry:
Pushing the Limits (Series)
Red at Night
Goodreads Description:
Seventeen-year-old Emily likes her life the way it is: doting parents, good friends, good school in a safe neighborhood. Sure, she's curious about her biological father—the one who chose life in a motorcycle club, the Reign of Terror, over being a parent—but that doesn't mean she wants to be a part of his world. But when a reluctant visit turns to an extended summer vacation among relatives she never knew she had, one thing becomes clear: nothing is what it seems. Not the club, not her secret-keeping father and not Oz, a guy with suck-me-in blue eyes who can help her understand them both.
Oz wants one thing: to join the Reign of Terror. They're the good guys. They protect people. They're…family. And while Emily—the gorgeous and sheltered daughter of the club's most respected member—is in town, he's gonna prove it to her. So when her father asks him to keep her safe from a rival club with a score to settle, Oz knows it's his shot at his dream. What he doesn't count on is that Emily just might turn that dream upside down.
No one wants them to be together. But sometimes the right person is the one you least expect, and the road you fear the most is the one that leads you home.
My Review


This book didn't even make it onto my "currently reading" shelf I was that taken by it. It made me cry, laugh and boy did it make me smile!

Emily lives a fairly standard life with her mum and adoptive dad; her biological father visits her once a year and life's pretty swell - for use of a better word. Then one day there's an email from her biological father. Her grandma's dead and he wants her to go to her wake. Next thing she knows there's an illegal motorcycle club after her and she's forced to stay with her biological father and his motorcycle club with a personal bodyguard - who happens to be pretty damn good-looking.

Alright, the beginning didn't really grab me and I spent the first 30% of the book unsure whether it was going to go above average. But it did. It went way above average. It actually surprised me it became that good! I was expecting a fairly average and uninteresting book but Mcgarry managed to bring a lot more to the table than that. ;)

The characters were amazing. I usually hate characters in contemporary romance but that definitely wasn't the case here. Emily was believable and had me rooting for her from the beginning. Her hopes and fears were cleverly entwined into the story in a way that gave it a whole lot of substance. Oz (her bodyguard) was a great character who I'm pretty sure has yet to fail to steal any reader's heart. He was loveable with just the right amount of annoying quirks to keep him from becoming too perfect and unrealistic.

The romance in this book's extremely well presented. There's none of those cliche knew-that-was-going-to-happen moments and a lot of those exciting holy-shit-that's-unexpected-and-freaking-adorable moments. It most definitely was not annoying and I was in full support of this relationship, which is definitely unusual; I spend half my life sighing at the annoying and unrealistic relationships that seem to dominate contemporary romance!

There were also a hell of a lot of surprises throughout this novel which kept me on my toes. From finding out what the stars on her biological father's arms meant to discovering her parents' past. It keeps you guessing from point go and you'll be wanting to read the book every second of every day just to find out more of the story. All in all, I would recommend this book to anyone who's anyone as it's an almost perfect example of what a good contemporary romance novel should be like.

Aaaaaaand... Before I make this review unbearably long I'd like to say once last thing: Thank God this is a series because you'll want way more of this when you're finished. I'm so excited for Razor's story!
Links
Goodreads
Amazon UK
Amazon US
Abi Ainley